Join The Savings Goals Gang
ALAT helps make savings & investment as easy as spending with the savings goals features.
ALAT savings goals are created for you to help you get the things you want. Whether you're setting up a budget, saving for that special item, occasion, or just looking for a rewarding savings & investment plan, ALAT Savings Goals has got you covered.
You can create as many goals as you need. It's as easy as setting your target, choosing your saving frequency, and watching the magic happen. ALAT handles the rest…and makes you some good money in the process.
Visit our FAQ section for more information.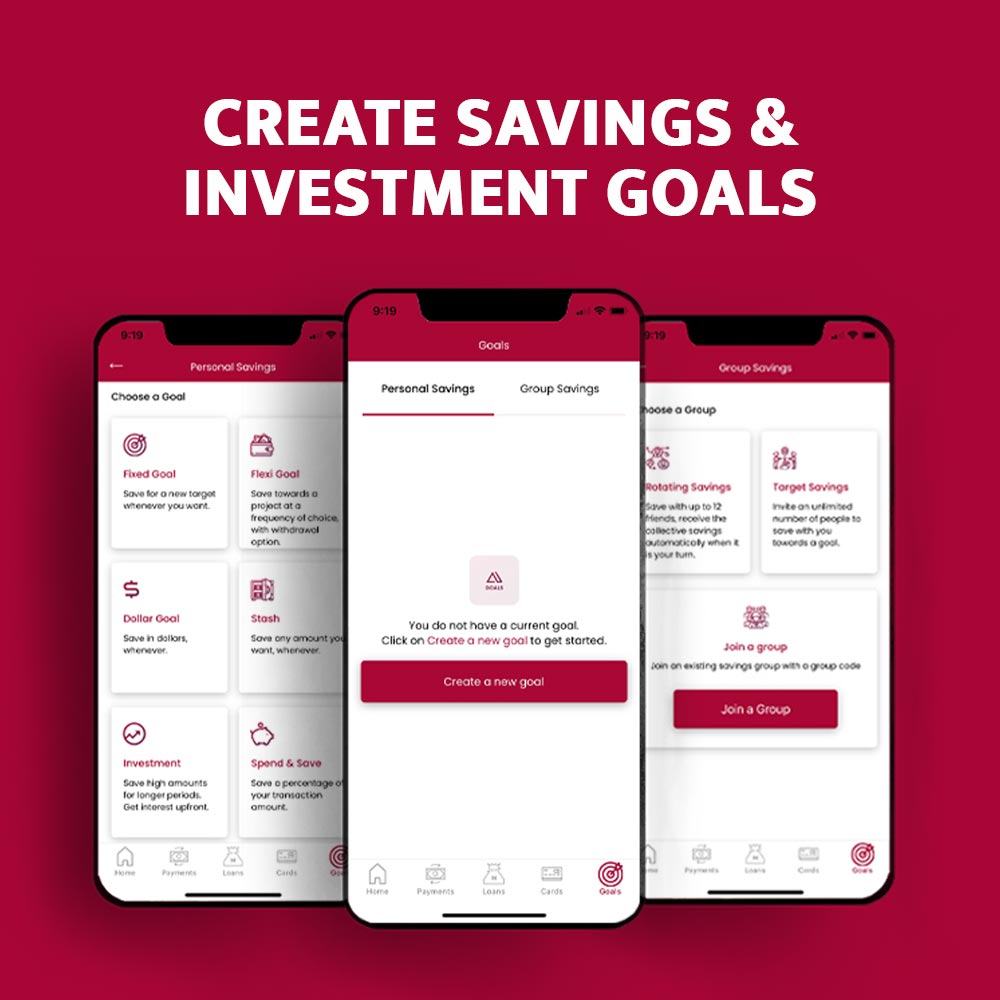 Varieties of Savings Goals Options
With several awards, ALAT continues to distinguish itself in the financial technology service industry across Africa enabling individuals and businesses with savings & investment opportunities.
Fixed Goal on ALAT is a savings feature that allows you to set a specific investment target and lock away funds towards achieving it, with competitive interest rates.
Flexi Goal on ALAT allows you to set investment targets with no fixed completion date, giving you the flexibility to contribute towards your goals at your own pace
Dollar Goal feature on ALAT allows you to save and invest in US dollars, providing a unique investment opportunity with potential returns in foreign currency.
Investment Goal on ALAT allows users to set financial targets and automatically invest funds towards achieving those goals.
Spend & Save is a unique feature that allows users to earn interest on their account balance while enjoying discounts on select purchases.
Lock up Goal feature on ALAT allows you to save towards a specific goal by locking up your funds for a set period of time.
Stash Goal on ALAT is a flexible savings option that allows you to save towards your financial goals at your own pace while earning interest on your savings.
ALAT Savings Challenge, allows you earn attractive interest rates on your savings up to ten percent (10%), helping you to grow your wealth faster.
How do I Create a Savings Goal?
Click Goals
Then click Create a New Goal.
Name your goal.
Pick the goal type (Fixed goal, Flexi goal, Dollar Goal, Stash, Investment, Spend & save or Lock up).
Set the amount of money you want to save.
Set the target date for achieving the goal.
Set the date to begin saving.
Pick your saving frequency (daily, weekly or monthly).
Pick the account money will be saved from.
Click Create Goal.
Accounts on ALAT You Need To Open
Save for a new target whenever you want and earn huge interest rate.
Save towards a project at a frequency of choice, with withdrawal option.
Save in dollars whenever you want and not allow your money loose it's value.
Other Amazing benefits of Using ALAT