Instant Utility Bills Payment from Anywhere & at Anytime
Pay Your Bills Quickly and Easily on ALAT
With bills payment on ALAT, you can now conveniently pay for your bills without leaving your homes or comfort zones. This feature gives you hassle-free experience, allowing to pay for electricity bills, cable TV subscriptions, internet data, airtime, and much more in just a few clicks, anytime and anywhere.
ALAT also offers automated bill payments, so you never have to worry about missing a payment or being charged late fees.
Visit our FAQ section for more information.
Features of ALAT's Bills Payment
ALAT offers a convenient and easy-to-use bills payment feature that allows you to pay your bills in just a few clicks. Some of the features of bills payment on ALAT include:
ALAT offers bill payment services for a wide range of billers, including utility bills, cable TV bills, internet bills, airtime, and data recharge, etc.
With ALAT bills payment, you can schedule their bill payments for a future date, ensuring that they never miss a payment deadline.
ALAT keeps track of all bill payment transactions, allowing you to easily and conveniently access all your payment history at any time.
The bills payment process on ALAT is seamless, with users being able to pay their bills in just a few clicks, using their ALAT account balance or a linked debit card.
How to Make Seamless Payment with ALAT
To pay a bill, choose a biller to pay to from the appropriate category
Then type your customer ID.
Next, choose the account to pay from,
Enter your ALAT PIN, and
Click the 'Pay' button.
If you pay this bill regularly, you can save the biller, and schedule your next payment.
Pay bills with ALAT on Android device | ALAT on iOS device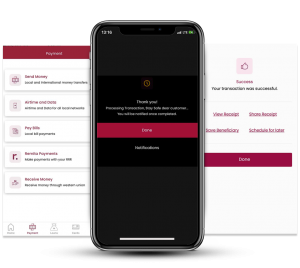 To send money from your ALAT account, click the 'Send Money' button on the ALAT dashboard then click on the 'New' button.
Type in the account number of the receiver and select their bank from the options provided.
Confirm recipient/receiver's name.
Next, choose the account to send money from, type in your ALAT PIN, and click the 'Send' button.
Now that you know how to send money on ALAT, let's show you how to buy airtime and pay bills.
Send Money with ALAT on Android device | ALAT on iOS device