You Need The ALAT Cards - ATM Cards
Wherever you are in the world, the ALAT card gives you the freedom to pay. And because life is better when you have options, you get to pick from three-card designs (MasterCards, Verve Card, Visa Card) and we'll deliver yours to you anywhere in Nigeria at no cost. The real fun begins when your card arrives: you can activate, lock and unlock it from your phone.
The ALAT Card is designed for easy transactions online and in-stors shop online (accepted locally and internationally), pay bills and subscriptions etc.
You can easily obtain your card from the comfort of your home or office.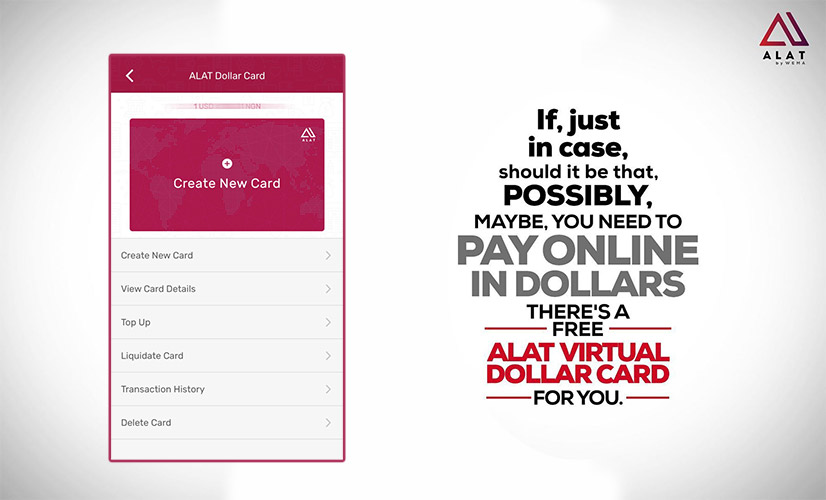 How To Request For Your Debit Card
Log in to the ALAT app and click Cards.
Swipe to pick your favourite card design and type your ALAT PIN to confirm your request.
Tell us where you would like your card delivered to and click Submit.
You card will get to you in 72 hours.
Activate Your Card From Your Device
Log in to the ALAT app and click Activate New Card.
Provide the required information and your card will be activated for use.
Check your account balance at any ATM.
Are you ready to join the ALAT Gang?
Your card is yours to control, and you can easily make it unusable by locking it from your phone. To control your card, log into the ALAT app, click Cards then click Card Control. By default, your card is unlocked but web transactions are disabled. You can disable card use for any payment channel – ATM, POS and web.
You can also decide what countries you can use your card in when you travel.
Other Amazing benefits of having an Accounts on ALAT